Evaporator Coils & Fan Coils
Carrier fan coils heat and circulate air in your forced air heating system, while evaporator coils work with your forced air heating and cooling system to condition the air for circulation throughout your home. Your Carrier dealer is always available to help you choose the perfect coil for your system.

Evaporator Coils
The right evaporator coil is vital for getting the most out of your air conditioner or heat pump. Carrier's wide range of Performance™ Series evaporator coils, engineered to fit your specific installation environment, and manage the refrigerant to ensure maximum heating and cooling of your home.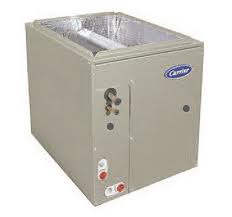 Fan Coils
The fan coil is the indoor component of a heat pump system. It includes the fan and the heating/cooling coil. The fan coil is designed for a particular refrigerant, so it must match with the heat pump. A variable speed fan coil can improve comfort with improved humidity control and warmer heating temperatures, and save energy in cooling.

Infinity Fan Coil