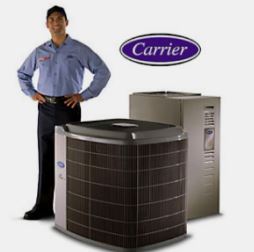 Rite Temp Heating and Air is a certified Carrier Dealer servicing Seven Oaks SC with professional HVAC sales, repairs and service. With over 25 years experience in the heating and air business, our mission is to provide superior service and comfort to our customers. We provide both commercial and residential HVAC sales and service in Seven Oaks SC , and no job is too big or too small.
Air Conditioning Repairs, Service and Sales in Seven Oaks SC
Rite Temp repairs and services all HVAC brands and models and is proud to be a factory authorized Carrier Dealer. And, when it is time to replace your cooling system, our team of experts recommends high-efficiency equipment solutions that endure for years to come. Each installed system comes with comprehensive manufacturer warranties and workmanship guarantees, and is installed by our team of hand-selected, trained technicians.
Heating Repairs, Service and Sales in Seven Oaks SC
Proper heating system maintenance does more than keep you cozy. When your HVAC system is properly maintained, you'll enjoy improved energy efficiency, reduced utility bills and increased system longevity. And, when it's time to replace your old heating system or install a new residential HVAC system, the Rite Temp team will recommend high-quality equipment that is affordable and durable.
Tankless Water Heaters in Seven Oaks SC
More and more people are choosing tankless water heaters over traditional tanks, and for good reason. Tankless water heaters, also known as instantaneous water heaters, demand heaters, or instant water heaters, are compact heating units that use gas or electricity to provide hot water on demand. This deduces standby energy losses that cost you money. When a hot water tap is turned on, water enters the tankless water heater, a sensor activates an electric or gas heating device, which quickly raises the water temperature. When the tap is turned off the water flow stops and the heating element shuts off so that no additional energy is used. Tankless water heaters can save you 10 to 25 percent of your monthly utility bill. At Rite Temp we provide the to quality tankless water heaters suitable for your home or business in the Seven Oaks SC area.
Geothermal Heat Pumps in Seven Oaks SC
Rite Temp is a proud to be a factory authorized dealer for the top Carrier products. Carrier geothermal heat pumps are your best solution to high energy costs while still providing enhanced comfort and improved reliability. Designed with leading edge technology, Carrier geothermal systems can dramatically reduce your annual costs for heating, cooling and hot water up to 60% per year for customers in the Seven Oaks SC area.. No other gas furnace, air conditioner or heat pump comes close to geothermal's efficiency. With continuous increases in the cost of fossil fuels such as natural gas, propane, and fuel oil, the savings possibilities are even greater in the future.
Air Quality Solutions for Seven Oaks SC
Improve your home's health by enhancing the quality of the air inside. Carrier humidifiers help you control air moisture, ventilators bring fresh air into your home air filters clean the air before it circulates, advanced ultraviolet lamps eliminate germs and bacteria, and carbon monoxide alarms measure and detect CO levels in the home. If you are in Seven Oaks SC looking for an air quality solution, call Rite Temp today.
HVAC Controls & Thermostats in Seven Oaks SC
With our wide variety of highly engineered thermostats, wireless thermostats and Thermidistats™–including our all-star Infinity Control–you have precise control over temperature, humidity, air treatment and scheduling. It's the advanced heating and cooling innovation you're used to from the experts at Carrier, for our customers in Seven Oaks SC .
Duct Free Air Conditioning, Heating, and HVAC in Seven Oaks SC
Carrier duct-free split systems deliver the unmatched comfort of a traditional split system to specific individual spaces in your home. Whether you're creating a quiet, comfort-controlled home theater room, or simply want to heat or cool an area in your home without ducts, the wide variety of Carrier duct-free split systems give you the efficiency, aesthetics and comfort of a traditional central split system.